Yes, life in the garden continues. Not much plant life, but bunny life indeed.
Some of the seeds have finally started to sprout, the green onions and the snap peas. Except that every time I spot a new sprout the bunnies eat it, except for the onions. Bunnies apparently hate onions.
Look at all those onions!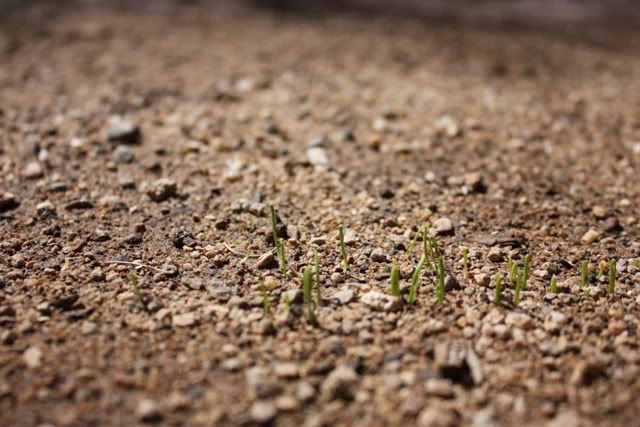 I replanted more of all of the seeds… okra, peas, onions, zucchini… in hopes that more will grow and the bunnies will mysteriously *cough, cough* disappear.
I did some online research about how to keep out the bunnies. Basically, we need a better fence but first have to remove a large amount of cactus and aloe plants, which is just no fun at all. Other suggestions included fox urine and dried blood. Charlie wasn't willing to spill blood for me, but he was willing to give up some hair.
I read that you can sprinkle human hair in the garden and that would keep them out. I guess some people go as far as to get it from the hair salon. Plus, it makes a good fertilizer!  Ew.
But, desperate times call for desperate measures and sprinkle hair I did.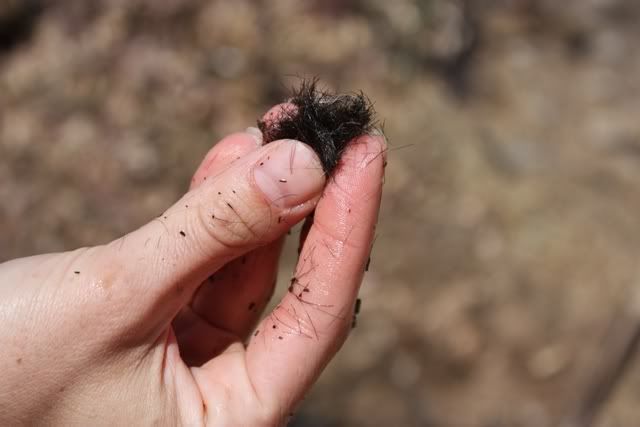 That there is a clump of hair.
Remember me telling you about how much I dislike having dirty hands?
At least this is my husband's hair and not someone I don't know, who could have any number of gross things in his hair.
I also planted some garlic cloves throughout the boxes. If they keep vampires away I figure bunnies might be scared off as well. Garlic is powerful stuff.
I'll let you know how it turns out. There are a few sprouts out now that are prime pickins and we'll see if they are still there tomorrow.
Posted by Amber at Monday, March 07, 2011 3:08 PM
Categories: Just Another Day